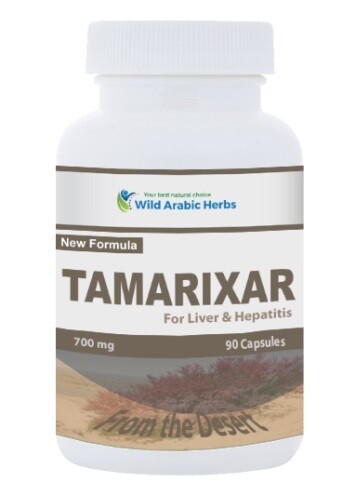 Tamarixar
SKU 13012
Product Details
Tamarixar New Formula - For Liver & Hepatitis
- Tamarixar New Formula ndihmon ne kurimin e Hepatitit dhe Cirrozes se melçisë.
- Stimulues dhe Tonik i mëlçisë.
- Ndihmon qelizat e dëmtuara të mëlçisë të rimarrin veten.
- Trajton dhjamosjen e mëlçisë dhe zmadhimin e saj.
- Ndihmon ne kurimin e Edemës - akumulimin e lëngjeve në trup.

- Pastruesi më i mirë i gjakut dhe infeksioneve të mëlçisë.
- Ndalon spazmen e shpretkës.
- Forcon imunitetin dhe ka aftësi të mahnitëshme për të luftuar mikrobet dhe viruset.
- Ndalon gjakderdhjen e brendëshme.
- Përdoret edhe kundër ënjtjeve të reumatizmës, kurimin e ulçërave, tretjen dhe diarrenë kronike.
- Ndihmon pacientet me Diabet dhe ul kolesterolin.
- Ndihmon sistemin tretës, largon kapsllëkun, gazrat e stomakut dhe zorrëve, ndihmon për kurimin e ulçërës së stomakut..
Shënim!
- Tamarixar New Formula eshte i sigurte per te gjithe, dhe nuk ka efekte anesore.

- Nuk permban ruajtes kimik, shtesa, ngjyroses apo aromatizues, por vetem ruajtes natyral krejtesisht bimor.
- Ilaçi eshte ne forme te kapsulave dhe merret 3 here ne dite nga 1 kapsule, para ngrenies.
---
---
Health benefits
- Tamarixar New Formula Helps cure Hepatitis and Cirrhosis of the liver.
- Stimulant and Tonic of the Liver.
- Helps damaged liver cells recover themselves.
- Dissolves liver fat and enlargement.
- Treat Edema - the accumulation of fluid in the body.

- Better cleanser of blood and liver infections.
- Prevents spasm of the spleen.
- Strengthens immunity and has amazing ability to fight microbes and viruses.
- Prevents internal bleeding.
- It is also used against rash, ulcer, digestives problems and chronic diarrhea.
- Helps patients with diabetes and lowers cholesterol.
- Helps the digestive system, removes constipation, gastric and intestinal gases, helps to cure gastritis.
Note!
- Tamarixar New Formula is safe for all, and has no side effects.
- Tamarixar New Formula is completely wild deserts herb, scientifically studied and has produced excellent results in humans.
- Tamarixider does not contain chemical preservatives, additives, coloring or flavoring, but only natural herbal preservatives.
- Tamarixar New Formula is also safe to deal with chemical drugs from those patients who are undergoing any chemical treatment for their disease at any stage of their being, initial or advanced; And in this case, our cure helps to reduce the side effects and damages of chemical drugs.
---
Ingredients: Wild arabic desert raw extract herbs.

Save this product for later